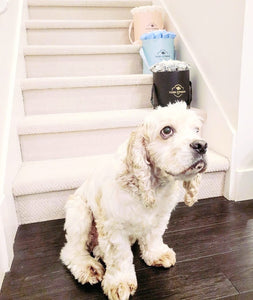 Happy National Dog Day 2018
Happy National Dog Day from sweet Donovan and Fleurs D'epargne. We want to thank you all so much for supporting a cause so dear to us.. rescuing the innocent dogs from the Dog Meat Trade in Asia! With your continuous orders, we were able to donate a generous amount so far to a non-profit organization called Soi Dog Foundation.

In the beginning of our journey, after stacks of research, we wanted to find the perfect foundation that mirrors exactly what we are passionate about, and Soi Dog Foundation is it. Located in Thailand, they don't just save dogs from the Dog Meat Trade in Asia, they also treat sick/injured animals, offer adoptions of dogs and cats, provide shelter/vaccine/medication to animals, and so much more! What they do is truly incredible and we are so honored to be a part of their growing journey.

Each year, they are growing with more volunteers and services offered, it's remarkable! We are so proud to be able to support them in what they do.. and it's all thanks to YOU! 

This is really just the beginning for us and we have no plans to stop! We're super pumped for the up-coming months as we're working hard for something BIG for all of you! Thank you for all your support and please stay tuned for so much more!! 💕
The Fun Guys
---