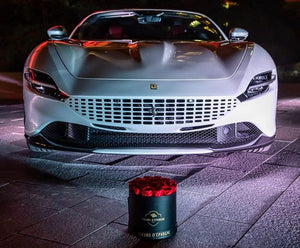 Let's talk collaborations! We love them!
Fleurs D'Epargne is proud and honoured to have been a part of many events throughout the years. We pride ourselves in providing our jaw-dropping arrangements that reflect timeless elegance, beauty, and luxury.



Our latest collaboration with Ferrari was nothing short of excitement! The official unveil event of Ferrari ROMA was on September 3, 2020 at Parq Vancouver.
Aside from collaborating with the Italian marque, we had the opportunity to work with the renowned Trump International Hotel & Tower Vancouver. We wanted to start the New Year off with a bang, so we did exactly that at their Sky Fall NYE 2020 Event.
Check out our video as we danced into the night!
https://youtu.be/I4EK6QwmnBY



Reminiscing about the fun we had at Sky Fall made us think back to the blast we had at Ferrari's Lunar New Year Event 2020. 



We especially adored the firecracker red paint on that beautiful supercar, so we had to ensure our gorgeous arrangement would match in color and wow-factor. We are so happy with the outcome!
One of our very first collaborations was with Ferrari at their 2019 unveil event of its T8 Tributo. We were ecstatic to be a part of their event and to be able to deliver a stunning impression with our floral pieces on all who attended.
Watch a snippet of this unforgettable night!
https://youtu.be/9vrGQNMcNXs


~~~~~~~~~~~~~~~~~~~~~~~~~~~~~~~~~~~~~~~~~~~~~~~~~~~~~~~~~~~~
Have questions or would like to be informed about the latest updates and promotions?

Follow us on Instagram @fleursdepargne or contact us at support@fleursdepargne.com
---