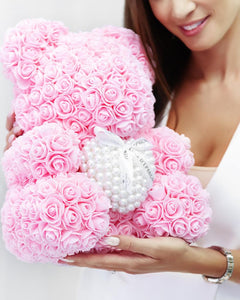 Holiday Season Top Picks
Fleurs D'epargne Holiday Gift Guide
Tis the season! The time of the year where we say thanks to friends, families, partners, and show our appreciation with a little gift! If it's for your lover, your sister, your mother, or just a friend.. we've got the perfect gift this Christmas. Check out our top holiday picks..
Give a gift that lasts this Christmas
#1
Perfect for the romantic type.. The "Eternity 3-in-1 Rose" in, is featured inside of an Enchanted glass dome. Known as, "Beauty and The Beast Rose." in a glass dome.
#2
The classic gift, one that will last an age. 
Love in a box..this Deluxe Marble Heart arrangement features 24 roses inside of a marble heart box, with a choice of Gold Tipped for an extra touch of class..
#3
For those who've been married this year, we have a gift for you newlyweds. A bouquet of freshly cut preserved flowers.. that last forever! 
Our Forever Bouquet
#4
For your romantic sweetheart.. a gift of beauty, our Enchanted Heart in a Glass Dome
#5
For the luxurious type who wish to treat their other half to something spectacular. For you we have the Ultimate Crystal Box.. a luxurious Crystal Acrylic material arranged with 25 real roses (preserved aka eternity roses) that lasts up to 3 years.
Our top 3 Christmas gifts with the 'cute' factor
1. The original rose bear.. Our Baby Rose bear is sure to get a smile! Handcrafted with over 300 Luxe Foam Roses, this bear last forever.
2. Rose Kitty - the cutest Christmas gift of all! Shop Rose Kitty 
3. Elegance in a box, our Single Rounded Rose box is a simple gift for a special someone. 
Happy shopping

Want More?
We've got a whole host of preserved roses arrangements to choose from. Check out our collections page.
Need to Customize? No worries, we can customize to any request.. we love to create!
Don't Forget Our Christmas Sale.. there is still time. Our sitewide sale of 20-40% is still on for a limited time only, both in store and online.
We Ship Anywhere! We ship most products worldwide and can cater to same-day delivery (cut off time is 11am)
---